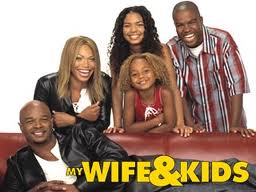 My Wife and Kids is a American television family sitcom created by Don Reo and Damon Wayans that ran from March 28, 2001 until May 17, 2005. The show was produced by Touchstone Productions. It starred Damon Wayans and Tisha Campbell-Martin. The series was produced by Wayans Bros. Entertainment.
The series revolves around the experiences around Michael Kyle, Sr. and his family in Stamford, Connecticut. After impregnating his wife, Jay as a teenager, Michael has grown paranoid of his children spoiling their virginity. Among his children are Michael Kyle, Jr. (nicknamed Junior), Claire, and Kady. Later, Michael's nightmares come true when Junior impregnates his girlfriend, Vanessa, resulting in addition in a son for Junior in the cast of characters for the series. The series ended with Jay telling Michael that she is pregnant with their fourth child even though Michael got a vasectomy.
Damon Wayans as Michael Kyle, Sr.
Tisha Campbell-Martin as Janet "Jay" Kyle
George O. Core II as Michael "Junior" Kyle, Jr.
Jazz Raycole (season 1), Jennifer Freeman (season 2-5) as Claire Kyle
Parker McKenna Posey as Kady Kyle
Noah-Gray Cabey as Franklin Mumford
Meagan Good (season 3), Brooklyn Sundano (seasons 4-5) as Vanessa Scott-Kyle
Ad blocker interference detected!
Wikia is a free-to-use site that makes money from advertising. We have a modified experience for viewers using ad blockers

Wikia is not accessible if you've made further modifications. Remove the custom ad blocker rule(s) and the page will load as expected.