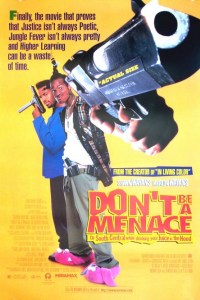 Don't Be a Menace to South Central While Drinking Your Juice in the Hood is a 1996 parody/comedy film that was directed by Paris Barclay, that was written by and starring Shawn Wayans and Marlon Wayans. The film was released on January 26, 1996.
Ashtray (Tray for short) is sent to live in the inner city to live with his father. Tray gets a education about the streets from his psychotic, gun-tooting cousin, Loc Dong, self-hater Preach and the cripple Crazy Legs.
Shawn Wayans as Ashtray
Marlon Wayans as Loc Dong
Lamard Tate as Ashtray's father
Vivica A. Fox as Ashtray's mother
Helen Martin as Grandma
Chris Spencer as Preach
Suli McCullough as Crazy Legs
Ad blocker interference detected!
Wikia is a free-to-use site that makes money from advertising. We have a modified experience for viewers using ad blockers

Wikia is not accessible if you've made further modifications. Remove the custom ad blocker rule(s) and the page will load as expected.