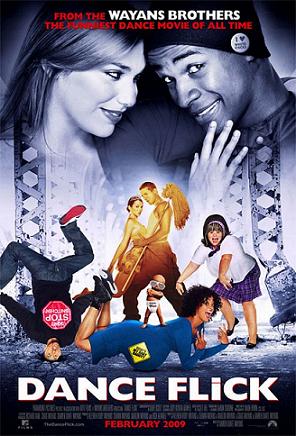 Dance Flick is a 2009 American comedy film directed by Damien Dante Wayans, written by many of the Wayans family. The film is a spoof the popular dance film genre. The film stars Shoshana Bush, Damon Wayans, Jr., and Essence Atkins. The film was released on May 22, 2009.
Suburban girl named Megan gets in a series of misadventures when she moves into the ineer-city and pursues dance. A nerdy boy named Thomas, as a thing for street dancing, but is stuck under working for a hungry obese gang lord, Sugar Bear. Later, Megan befriends Thomas' ghetto sister, Charity who has a baby, but has bad parenting skills. Once, Megan and Thomas meet they spend more time together, become dance partners, and fallling in love with each other.
Shoshana Bush as Megan
Damon Wayans, Jr. as Thomas Uncles
Essence Atkins as Charity Uncles
Affion Crockett as A-Con
Shawn Wayans as Baby Daddy
Marlon Wayans as Mr. Moody
David Alan Grier as Sugar Bear
Tichina Arnold as Ray's Mama
Lochlyn Munro as The Coach
Ad blocker interference detected!
Wikia is a free-to-use site that makes money from advertising. We have a modified experience for viewers using ad blockers

Wikia is not accessible if you've made further modifications. Remove the custom ad blocker rule(s) and the page will load as expected.